Cruise Ship Medicine
Embark your medical career on a new international voyage of discovery. Join our team of skilled Doctors, Nurses and Paramedics working on any of our 70 ships across our five fleets: Carnival Cruise Line, Princess Cruises, Holland America Line, Seabourn and P&O Australia. Our staff are passionate about providing quality healthcare to our guests and crew while they sail the world creating lasting memories.
Medical Care
Our ships provide a full spectrum of high quality, evidence-based medical care to guests and crew. This includes outpatient clinics and 24/7 emergency care with first response, inpatient care (including ICU care) and ongoing support for discharged patients, and patients that require referral and transfer of care via evacuation by sea or air.
Patients may present with anything from minor illnesses and injuries to major trauma (requiring procedural sedation for interventions), or acute surgical or medical emergencies requiring resuscitation, and active medical management.
Cases may include anything from the management of arrhythmias and acute coronary syndromes, to the administration of thrombolysis, management of ventilated cases, sepsis, pediatric emergencies, infectious diseases and in some cases, end of life or palliative comfort care. Due to the remoteness of many itineraries, inpatient care may be required in some cases for up to 10 days.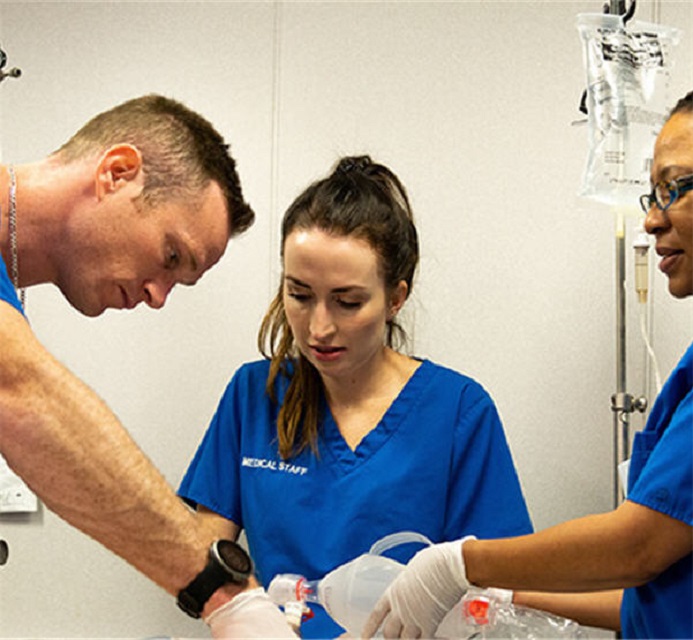 Medical Staff & Facilities
A typical shipboard medical team consists of two doctors and two to four nurses. Larger ships also have paramedics. All medical staff have officer ranks. Medical Centers consist of reception and triage areas, doctors' consultation rooms, and fully stocked pharmacies. Procedures are performed in a dedicated treatment room, equipped with what one would find in a typical land-based Emergency Room. Most inpatient areas have a nursing station with central monitoring, several inpatient wards and one to two ICU's as well as a laboratory with capabilities to perform a wide array of tests.
Our ships have capabilities for non-invasive cardiac monitoring, provision of bedside oxygen, infusion pumps, syringe drivers, ECG, manual defibrillators with transcutaneous pacing ability. For advanced airway management, ships have adult and pediatric equipment for intubation, supraglottic airway placement cricothyroidotomy, videolaryngoscopy, provision of CPAP, end-tidal CO2 monitoring and mechanical ventilation. Imaging capabilities include X-rays with 24/7 teleradiology reporting services and on some ships, ultrasound.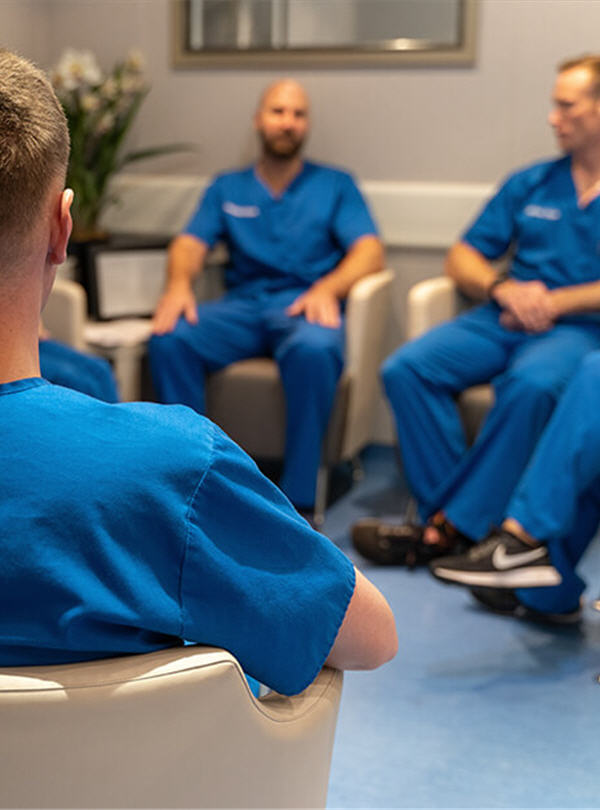 Gallery